Canby ~ 11

Silverton ~ 13

Molalla ~ 16

Salem ~ 21

Oregon City ~ 30

Portland ~ 33

Boring ~ 39

Lebanon ~ 52

Sweet Home ~ 68

Eugene ~ 82

Newport ~ 107

Astoria ~ 126

Lincoln City ~ 131

Bend ~ 160

Grants Pass ~ 210

Klamath Falls ~ 246

Eagle Point ~ 250
"City of Unity" — a center of cultural diversity. Here Anglos, Hispanics, Russians and a thriving senior community come together in a unique blend of local and extended heritage.
Woodburn has developed a cosmopolitan blend of cultures not normally found in cities of its size.
Just where is Woodburn located in Oregon?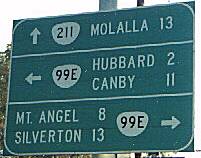 Woodburn is semi-sandwiched between Highway 99E (between mileposts 30 and 33) and I-5 (exit 271). What's at Exit 271?
Woodburn lies at the hub of French Prairie, an area that includes Hubbard, Gervais, Donald and St. Paul.
We are about . . .
20 minutes north of Salem, the state capital
30 minutes south of Portland, the state's largest metro area
60 minutes from Mt. Hood and the Cascade Mountains with their famous hunting, fishing, skiing and hiking opportunities
90 minutes from the Pacific coast beaches
The town is served by Interstate 5, Highway 99E and the Union Pacific Railroad mainline. Here large and small businesses provide economic stability with employment opportunities ranging from food processing to construction of manufactured housing to professional services. Historically, farming has contributed greatly to Woodburn. Today agriculture still puts its stamp on this area. Major agricultural crops include grass seed, hops, berries, containerized nursery plants, Christmas trees, vegetables and dairy products.